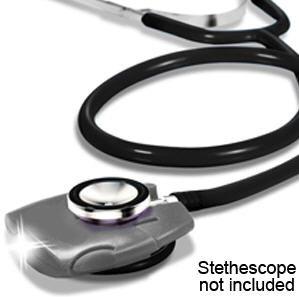 Stethoscope Light
Stethscope Light for you stethoscope, what a great idea? In addtion, its an ideal giveaway or gift for doctors, nurses, veterinarians, and other health care professionals, this unique and handy design fits around the bell of a stethoscope. Just squeeze the buttons on the sides of the grey light case to activate a bright LED examination light.
Please note: Does NOT fit the following models: Adult UltraScope, Littmann Master Cardiology, Littman Master Classic or Littman Double Lumen.
Features and Specifications:
Dimensions: 1 3/4" x 2 1/8" x 9/16"
Battery Info: 2 CR1220 Lithium Batteries included
Light Info: LED
Weight: 0.05 lb
---