AMBUstat 360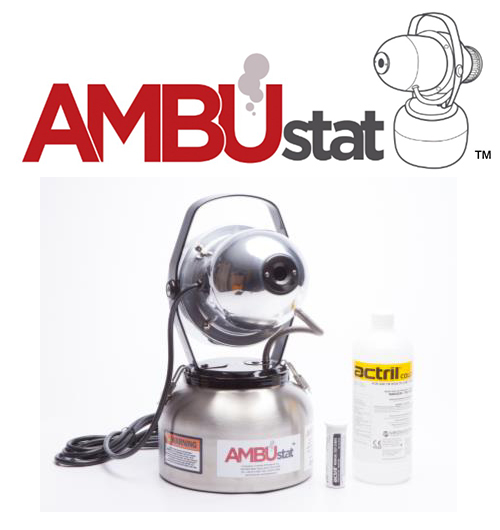 Portable Environmental Surface Bio-Decontamination Program
The AmbuStat™ Portable Environmental Surface Bio-Decontamination Program was designed to change the way we perceive the cleaning and disinfection of prehospital public health spaces. The entire starter set, including the first case of sterilant, AmbuStat™ is a practical solution for any organization.
Traditionally, public health is positioned for reactive approaches to emerging infectious diseases and this leaves us extremely vulnerable and often scrambling to respond. Considering the panic associated with recent pandemic threats, AmbuStat™ was developed to serve as a critical component in the global biodefense action plan to promote proactive strategies to combat infectious microorganisms.
Together with a diligent commitment to thorough deep cleaning of all surfaces after 'every' patient encounter, demanding attention to universal standard precautions, as they were designed, AmbuStat™ enables achievement of residue-free high-level disinfection of all surfaces, which is difficult for most solutions, including ultraviolet light. In most cases, including the deep cleaning process (removal of all visible organic and inorganic matter), small spaces, such as those associated with ambulances, are only out of service for 40 minutes. This is critical, as it keeps your assets in service, while also protecting them through the investment of good risk management practices.
Contact us for pricing and more information.
Find out HOW IT WORKS and WHAT MAKES IT DIFFERENT by visiting spacedecon.com.
Additional information is available by downloading the pdf documents found below.
Why AMBUstat?
What is Peracetic Acid
Program Outline
Microorganism Chart
Marketing Flyer
Sterilization System