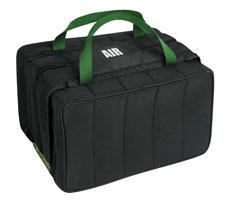 StatPacks G1 Airway Module, Black/Green
StatPacks is changing the way Emergency Clinicians think about carrying their gear. Relying on advanced ergonomics and intelligent design, StatPacks keep the medic's hands and mind free to handle the unexpected. Smart, compact packs reduce injuries and improve efficiency on the scene. Every ounce of weight and wear on an EMT's back is justified by clinical effectiveness.
Based in St. George, Utah, StatPacks designs, builds and markets innovative packs and accessories for the full range of emergency medicine professionals. Fusing advanced sports-mountaineering know-how with practical ideas from the front lines of emergency medicine. Combining high-tech construction, functional features and intuitive structures, StatPacks are the most rugged, comfortable and effective packs on the market.
The StatPacks G1 EMS Foldaway Airway Module is compact and organized, this module brings it all together in a solid airway module.
FEATURES:
Mesh pockets that fit laryngoscopes, NPA's, OPA's, and ET Tubes
Foam lined for equipment protection
"AIR" printed on top flap for identification
Stackable in Technician, Responder, Clinician, BackUp and Stealth packs
Can be used as a standalone module
Available Colors: Black with Green Handle and Tactical Black
Dimensions: H: 6" x W: 8" x D: 10.55"
Weight: 1 lb
---