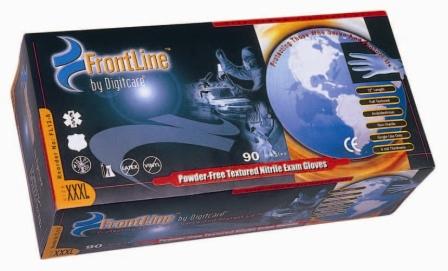 Frontline Nitrile Gloves, 12" Small
Digitcare is one of the world's leading suppliers of quality examination and specialty gloves. Digitcare offers a full line of latex, synthetic, sterile and non-sterile hand covering products that provide the highest level of protection. Digitcare products have been University and field tested with proven durability and class leading performance. Digitcare gloves are manufactured to strict standards that meet or exceed international and US performance codes.
FrontLine powder-free textured nitrile exam gloves are available in 9" and 12" lengths. These gloves are suitable for high-risk and patient care environments. FrontLine was developed for use with with alderhydes and offers substantial puncture resistance and is free of latex proteins. Ideal for healthcare professionals who are sensitive to latex.
FrontLine Powder Free Nitrile Exam Gloves were developed to offer the following:
Advanced non-latex nitrile polymer offers superior stretch and comfort
Blue Color
Fully textured surface for improved grip in all conditions
Puncture resistance as specified by NFPA 1999-2008 edition
Passed ASTM Bacteriophage Test F1671 per NFPA 1999-2008 standard
UL certified NFPA 1999-2008 edition with an AQL of 0.65 exceeds industry standards
Our Ease Off No-Stick exterior surface prevents duct tape and even Veni-Gard from sticking to the glove
Sizing Options:
9" come in Small(S), Medium(M), Large(L), X-Large(XL), XX-Large(XXL), and XXX-Large(XXXL)
12" come in Small(S), Medium(M), Large(L), X-Large(XL)
---