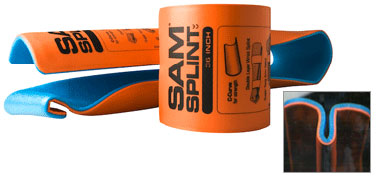 SAM Splint 36" - Roll - Orange/Blue
The SAM Splint is the Gold Standard for immobilization of sprains and fractures in the field. Lightweight, malleable, durable, reusable, compact, the universal SAM Splint is soft and adaptable and can be used on just about any part of the body. Ideal for infants, pediatrics and adults, the SAM Splint can be cut to fit with a pair of trauma shears. With the addition of the SAM Splint there is no need to stock the various types of splints when SAM Splint will meet all your needs.
Dimensions for the SAM Splint are 4 1/2" x 36" in either a roll or a flatfold configuration.
The SAM splint XL, a wider version is 5.5" wide x 36" and is large enough to be molded to provide stability for larger limbs. Thus, providing an even more stabile splint for those users in unique situations.
The SAM Finger Splint is a new addition and is ideal for those athletes who jam or break a finger and need the support a semi-rigid splint such as the SAM Finger Splint can offer.
---