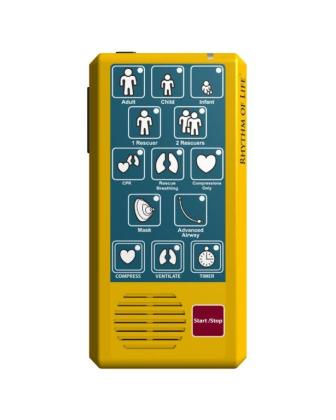 Rhythm Of Life CPR Device
Rapid Response Solutions is a Limited Liability Company (LLC) based in Northeast Wisconsin (USA). Rapid Response Solutions and the Rhythm of Life were developed by an EMT-Paramedic in response to the demands of the healthcare industry and the stresses placed on healthcare providers and trained lay rescuers in emergency situations.
The mission of Rapid Response Solutions is to provide caregivers with the tools that will assist them in delivering quality care and the best chance for patient survival.
The Rhythm of Life is a pocket-sized CPR timer designed to assist both medical professionals and trained lay rescuers in providing high-quality cardiopulmonary resuscitation (CPR) & cardiocerebral resuscitation (CCR).
Core Features: The metronome provides three distinct audible tones and visual feedback to guide the rescuer to compress the patient's chest, ventilate the patient, and provide interventions after every two minutes of resuscitation.
Core Benefits:
Improves adherence to American Heart Association 2010 Guidelines
Keeps focus on the patient and critical interventions
Promotes uninterrupted chest compressions at the appropriate rate
Helps avoid over-ventilation and hyperventilation
Prompts users to switch chest compressors every two minutes to avoid rescuer fatigue
---