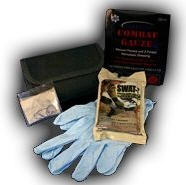 QuikClot BTK Belt Trauma Kit w/CG LE
Whether it/s you, your buddy or a victim, stopping traumatic bleeding quickly can mean the difference between life and death. Emergency medical care may not always be available, but the BTK Belt Trauma Kit is. This self contained kit provides the immediate hemostatic medical help you need to save a life.
QuikClot hemostatic products rapidly and effectively stop bleeding with technology that has saved countless lives on the battlefield. The BTK (Belt Trauma Kit) is a compact, lightweight, and cost effective way to add another layer of safety to your daily routine. It fits up to a 2 inch belt and can be worn rotated 90 degrees to make room for other gear.
Contents:
Gloves
CPR shield
SWAT-T pressure tourniquet
QuikClot Combat Gauze LE
---