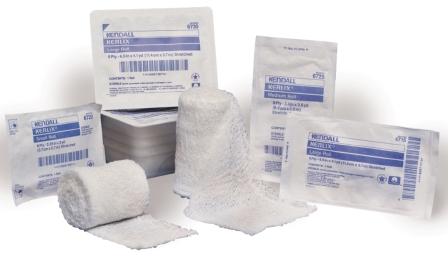 Kendall Kerlix Gauze Roll, 2.25" x 3 yds
At Covidien, we're passionate about making doctors, nurses and other medical professionals as effective as they can be. Through ongoing collaboration with these medical professionals and healthcare organizations, we identify clinical needs and translate them into proven products and procedures. Our industry-leading brands - including Kendall, Nellcor, Puritan-Bennett and Valleylab - are known and respected worldwide for uncompromising quality.
Over the years, we've pioneered a number of medical advances, including pulse oximetry, electrosurgery, surgical stapling, laparoscopic instrumentation and embolization devices. This extensive product line, spanning medical devices and medical supplies, enables us to serve healthcare needs in hospitals, long-term care and alternate care facilities, doctors' offices and in the home.
Kerlix Bandage Rolls are made of prewashed, fluff dried 100% woven gauze with unique crinkle-weave pattern for loft and bulk. Kerlix Bandage Rolls provide fast-wicking action, superior aeration, and excellent absorbency. Finished edges on the product reduce loose ends and lint. This product is available in 6.
---