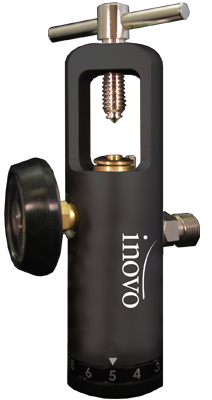 Inovo: 3625-R-1 (0-25 LPM, RH, DISS)
Inovo, Inc. is a leading manufacturer of oxygen regulators and conservers, serving the needs of the home healthcare, EMS and hospital markets.
Inovo manufactures all of its products in an integrated CNC machining and assembly operation. Inovo's state-of-the-art equipment includes multi-axis machining centers and the latest equipment for testing and quality control. Each Inovo product is manufactured and tested to ensure high durability. As a continued demonstration of there commitment to quality, Inovo has obtained ISO 13485 certification for medical devices.
The mission of Inovo is to manufacturer products that improve the lives of patients. They do this with a relentless focus on innovation, quality, and customer service. Backed by a five-year warranty and a "no-hassle" repair policy, their products are guaranteed to bring you peace of mind.
Features:
U.S. made in our Naples, Florida facility
Patented brass core in all ares that contact high-pressure oxygen
Meets ASTM-G175-03 promoted ignition tests
Inlet pressure: 200-3,000 PSI
Outlet pressure: 50 PSI
CGA 870 connection
Available with one or two PTO outlets (50 psi output pressure)
Five-year warranty
Materials:
All brass in high-pressure and relief-valve zones
20-micron, sintered-bronze inlet filter
Teflon pressure regulating seat
Viton and silicone o-rings
Stainless steel fastners and springs
FDA-recommended brass and viton seal washer
---