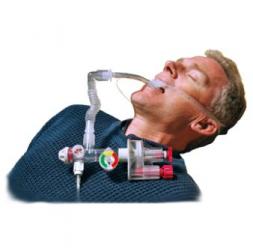 Surevent Vent. w/Manometer
The SUREVENT is the first disposable automatic ventilator designed for pre-hospital emergency care providers. Utilizing a continuous gas flow source, the SUREVENT provides smooth, reliable ventilatory support via a mask or endotracheal tube. The SUREVENT is ideal for everyday emergency care situations, as well as large scale disasters and mass casualty incidents.
The Hartwell Medical Survent Disposable Ventilator Features:
Shelf life of 5 years with no batteries, cleaning or calibration required
Pressure-cycled, consistent ventilation
Extremely light and compact at only 4 oz.
Purchase 300 SUREVENTs for the price of one hospital ventilator
New model for patients 10kg and above
Exceeds federal 72-hour response time
Can be set up and functioning within 2 minutes
Perfect for your disaster management equipment cache
The FlowMaster MCI Kit provides a truly complete and cost-effective mass casualty automatic ventilation system. Each kit provides a single staging point for up to 7 patients. Individual controls on each of the seven patient oxygen outlets of the FlowMaster allow flow adjustments from 0 to 25 LPM to accommodate the unique needs of each patient as well as to allow a combination of both air-mix and 100% oxygen devices to be connected to the manifold at the same time.
The Hartwell Medical Surevent MCI Kit Features:
Provides a Single Staging Point for up to 7 Patients
Sturdy Base Stores 20 Feet of Oxygen Hose
Watertight, Protective Hard Case
Ideal for Mass Casualty Incidents and Disaster Management
Model 1530 FlowMaster uses 7 individually-adjustable flow control outlets and Model 1525 uses fixed orifice adapters to provide either 15 or 25 LPM
Instructional placard mounted in lid serves as on-scene patient log
Each kit can hold 10 SUREVENT's or a combination of face masks and nasal cannulas
---