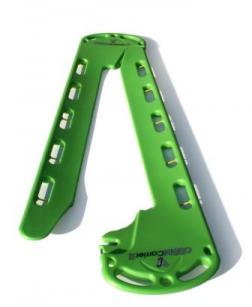 CombiCarrier II Scoop Stretcher/Backboard
In 1999, Hartwell Medical introduced the award-winning CombiCarrier, the first combination backboard and scoop stretcher. This innovative device saved rescuers valuable budget dollars and storage space by combining 2 products into 1. Today, the next generation CombiCarrier II is even thinner, lighter, and stronger than the original and continues to be the ideal patient handling and transfer device.
Since their inception, Hartwell Medical has been known for outstanding customer service and an exceptional warranty program. All of their products are subjected to clinical evaluation and real-life field tests to ensure they meet the high standards and of course, your ever-changing needs. Should you have any questions about the use or care of their products, either the staff of Hartwell Medical or our staff will be happy to assist. Hartwell Medical is continually working to provide you with quality products for life.
The Hartwell Medical CombiCarrier II........is the next generation 2-in-1 Scoop/Backboard
Features and Benefits:
Spinal Immobilization Device: The CombiCarrier II may be used as a scoop stretcher or a full backboard
Auto-Lock Latch System: Simple, intuitive design minimizes training. Locks instantly during application. Manual release required during removal from patient
Concave Patient Surface: Provides excellent lateral support and improves patient's sense of security. Minimizes movement of patient's spine during lifting and transport. Continuous inner edge eliminates panel pinch points.
Operates like a Standard Backboard: Patient can be rotated and slid out onto the CombiCarrier II during auto extrication. Four patient restraint straps are included.
Continuous Head Support Surface: Improves neutral alignment and minimizes head movement during application and removal. Accomodates various durable and disposable head immobilizers.
Seamless Plastic Construction: No rivets, drive screws or roll pins. High density polyethylene is easily cleaned and disinfected. Helps comply with CDC and OSHA guidelines. Foam filling makes it ideal for water rescue.
Specifications:
Model: CC 2200P
Dimensions: 73.50" L x 16.50" W x 2.19" D
Color: Lime Green Weight: 15.5 lbs
Materials:
Load Capacity: 450 lbs
---