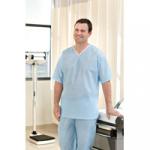 Scrubs Light Blue Pants, Medium
As a leading provider of quality single-use medical products, Graham Medical strives to provide solutions that make your job easier and more effective. Continuous product development efforts are focused on delivering practical solutions like the MegaMover portable transport units and InhibX antimicrobial table paper, towels and pillowcases. Our full line of single-use products results in optimal convenience, comfort and protection.
Graham Medical is a division of Little Rapids Corporation located in Green Bay, Wisconsin.
Scrubs Light Blue SMS Features:
Made of soft, linen-like material.
Offer optimal comfort, coverage, and warmth during exams or diagnostic testing.
Fluid resistant, yet lightweight, breathable material.
Feature an elastic, latex-free waistband and sewn v-neck for comfort and fit.
Ideal for trauma and psychiatric patients and patient visitors.
Available in different colors, this may be used to help distinguish between types of patients and from healthcare professionals.
Available in sizes Medium, Large, X-Large, and XX-Large.
Graham Medical offers two different scrub sets. The light blue scrubs (discussed here) are more linen-like, lightweight, and breathable. Whereas, the navy scrubs are most durable.
---