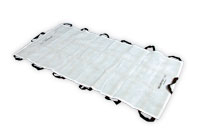 MegaMover 1500
As a leading provider of quality single-use medical products, Graham Medical strives to provide solutions that make your job easier and more effective. Continuous product development efforts are focused on delivering practical solutions like the MegaMover portable transport units and InhibX antimicrobial table paper, towels and pillowcases. Our full line of single-use products results in optimal convenience, comfort and protection.
Graham Medical is a division of Little Rapids Corporation located in Green Bay, Wisconsin.
The MegaMover 1500 is a compact, cost effective, portable transport unit used to transport, transfer or rescue patients from areas inaccessible to stretchers. The nonwoven, latex-free construction hold up to 1,500 lbs. and has 14 handles for ergonomic lifting.
The MegaMover 1500 provides emergency professionals with the performance emergency situations demand. Designed as a limited use item.
Features:
14 handles, 6 per side, for convenient use
Limited Use - Replace if the unit is damaged, frayed, cut, or soiled
Specifications:
40" x 80" unit folds easily and weighs less than one pound
Holds up to 1500 pounds
---