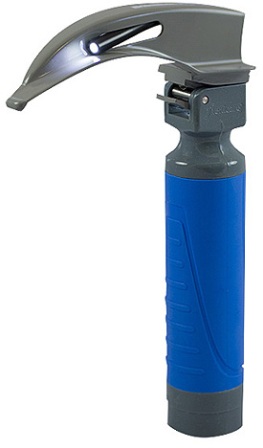 Flexicare BritePro Solo, Miller 00
AS IT SHOULD BE.....
BritePro Solo is a complete single-use fiber-optic laryngoscope solution comprised of an advanced LED Handle and a fully metal blade. This Unique product is just as it should be, combining the best qualities of reusable laryngoscopes along with all of the benefits of a completely disposable solution.
The only complete laryngoscope solution that combines disposable handle, lightsource and blade in a single sterile pack.
No Risk of Cross-Contamination Designed for single use only, BritePro Solo laryngoscopes are 100% sterile and packaged individually, thus eliminating the risk of cross-contamination.
Quality Feel without Compromise With 100% metal blades, BritePro Solo provides the quality and functionality of a reusable. Additionally, with a strong metal-to-metal connection between blade and handle, you can be confident that your tools will perform as well as you do.
One Size Fits All The only handle your hospital needs. The ergonomic Solo handle features an over-moulded soft grip for superior control in all clinical settings. Unlike oversized standard handles that are built to accommodate the batteries, BritePro Solo is designed with only the comfort of the users in mind.
Excellent Tissue Visualization from Advanced LED light Increased illumination through high output LED delivers a bright focused light to where you need it most. Unlike reusable blades and handles that lose light after each cleaning, BritePro Solo is new every time, providing consistent focused light intensity without compromise.
Saving Life Economically With the risks of cross-contamination from reusable devices rising, so too are the efforts and costs to reprocess the reusable laryngoscope blades and handles. BritePro Solo is more economical and provides better patient care as compared to reusables.
---