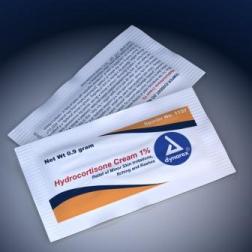 Hydrocortisone Cream, 0.9 gm packet
Dynarex Corporation, established in 1967, is a leading manufacturer of a broad range of disposable medical supply products.
Hydrocortisone cream is used for temporary relief of minor skin irritations, itching and rashes due to eczema, insect bites, poison ivy, poison oak, poison sumac, soaps, detergents, cosmetics and jewelry. Also for feminine external genital and anal itching.
Helps to prevent infection in minor cuts, scrapes and burns
Comes in 2 sizes - .9g packet, and a 1 ounce tube
---