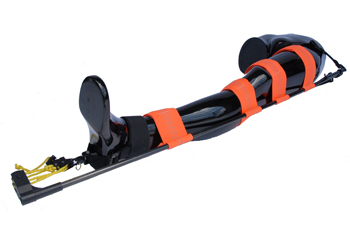 CT-EMS Traction Splint (Blue Bag)
Faretec, Inc. specilizes in manufacturing Leg Traction Splints, Utility Splints, Transport Containers and other medical products for Civilian Pre-Hospital and Military markets.
Solve all your leg traction splint needs with one compact, powerful, reliable device. High Tensile Carbon Tubes-Strong and Stiff.
"A Splint to solve your leg traction needs... in a small one pound bag"
Entire Splint, and ankle hitch, are designed to fit Adult through Pediatric Patients
Integral Reflective Strap System; comes out of the bag ready to go, no loose straps
Requires minimal patient movement with no Perineal nerve impingement
Tested extensively in the field by numerous organizations through numerous areas of the world
American Made
Small, Compact, and Lightweight: 1.1 pounds
Cost-effective compared to other alternatives
East to use and implement
---