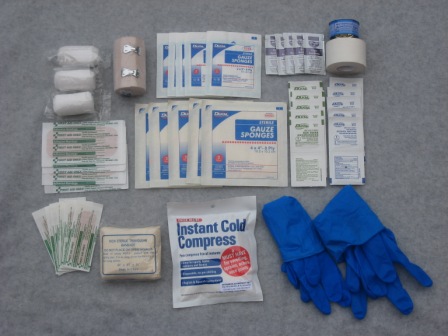 Basic Sport First Aid Kit
Finally......a Basic 'custom made' Sport First Aid Kit made by Coaches and EMT personnel to meet all those untimely scraps, scratches, and insect bites for Coaches and Umpires/Referees in various sport activities. Thus, stop wasting your valuable time and money on inadequate and insufficient First Aid Kits that just plain don't work. In our custom First Aid Kits we utilize quality medical grade products not found in your local stores and yet we still remain very cost-effective and provide all the necessary items you as Coaches or Umpires will need (over 75 items).
The Basic Sport First Aid Kit is provided in a moisture resistant Ziploc bag for those fowl weather situations. Lastly, you will be glad to know that our Basic Sport First Aid Kit is made available in a black softsided carry case to protect your first aid kit.

Contents:
(1) Bandages, Triangle

(1) Elastic Bandage Roll, 3" x 4.5 yds

(1) Ice Pack

(1) Gauze 2", Non-Sterile

(1) Tape Cloth, 1" x 10 yds

(1) Waterproof Adhesive Tape 1/2" x 2/5yds

(3) Gauze 2"

(4) Bandage 2" x 3", Adhesive Plastic

(4) Nitrile Gloves

(5) Triple Antibiotic Ointment

(5) Ziploc Bag

(8) 1" x 3" Bandage

(10) Alcohol Preps

(10) BZK Towelettes

(10) Gauze, Sponge, Sterile 2" x 2" 8-ply

(10) Gauze, Sponge, Sterile 4" x 4" 8-ply
---