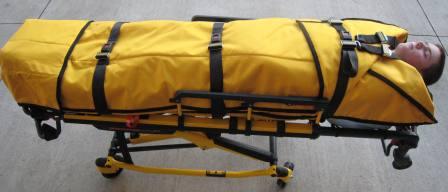 ARGOTS III Cot Quilt
ARGOTS, Inc. is a manufacturer of patient warming materials. Established in 2011, this newly formed company has found a niche in the manufacturing of custom fitted cot quilts for the pre-hospital industry.
Why ARGOTS, Inc. Extreme Cot Quilts? The bottom line is the rugged, durable and long-lasting ARGOTS Extreme Cot Quilt out performs its competition.
ARGOTS III Extreme Cot Quilt Features:
Cordura Outer & Inner Shell for Strength, Durability, and Easy Clean-Up
Polartec 300 Insulated for Patient Warmth
American Made in Minnesota
Reinforced Ribbing for Added Strength
Custom Fit for both old & new cot mattresses by Stryker. Cut-outs allow the cot's Velcro mattress Seurement System to secure properly to the cot itself while the cot quilt is in place. No other competitor has this ability
Patient Protection for 'fowl' weather conditions
Options:
Anti-microbial Polartec 300 Fleece
Colors: Black, Charcoal Gray, Hunter Green, Navy Blue, Orange, Red, Yellow
Custom Personalization: Add a department patch or embroider
---