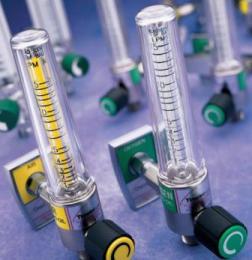 AHP Oxygen Flowmeters, 0-15 Ohio
Throughout Allied Healthcare Product's history they have challenged themselves to develop products which affect the quality of human life in many positive and long-lasting ways. They are proud to say that during the past 50+ years they've introduced a great variety of products contributing to the health or standard of living of our customers.
The Soft-Touch Timeter Flowmeter is durable, long-lasting and easy to maintain. Timeter by Allied Flowmeters: Quality Plus Value.
The Soft-Touch Timeter Flowmeter Features:
Flowmeter hood is made of crack-resistant polycarbonate
Dual tapered metering tube provides outstanding accuracy
Easier readability on the 0-5 lpm range
Steel float eliminates sticking caused by static electricty
Nickel-plated solid brass body provides high durability and long life
Larger, easier to grip Soft-Touch knob
Color coded for air or oxygen
---