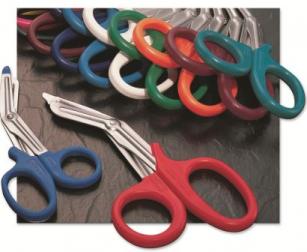 ADC Mini MEDICUT 5 1/2", Black
American Diagnostics Corporation (ADC) was founded in 1984. In just over two decades, ADC has grown into one of the world's premier suppliers of diagnostic medical products, personal instruments, and accessories for the healthcare industry. ADC's corporate headquarters, located in Hauppauge, NY occupies a 44,000 square foot state-of-the-art office, quality control, manufacturing, and distribution facility. ADC products are sold on 6 continents in over 30 countries and are in use by thousands of health care institutions and millions of health care professionals world wide.
ADC products are manufactured from the finest materials with an uncompromising concern for quality. Exhaustive inspection of every item by their factory-trained quality control staff ensures strict compliance with ADC standards for performance and durability. And the commitment to manufacturing excellence is backed by the industry's most extensive warranties.
ADC surgical instruments, tools, and accessories are made to their exact specifications in order to withstand the rigors of daily use. The MEDICUT Shears is the world's leading seller and it gets the job done!
Medicut Shears Features:
Razor sharp, super-hardened surgical stainless steel blades with one serrated edge to cut through the toughest materials
Blades tempered to a Rockwell hardness of C56 for unsurpassed durability
Contoured polypropylene handles with large ring provide maximum control and comfort
Extra large rivet with a rated strength of 88kg assures rugged durability
Fully auto-clavable to 143 degrees C (290 degrees F)
Available in tradional 7 1/4", or smaller 5 1/2" length
Inspected and packaged in the USA
Two year quality performance guarantee
CE marking
Mini MEDICUT Shears 5 1/2" Features:
Smaller 5 1/2" length is ideal for cutting bandages, tape, and clothing
Polypropylene safety bandage tip color coordinated to the handle
---