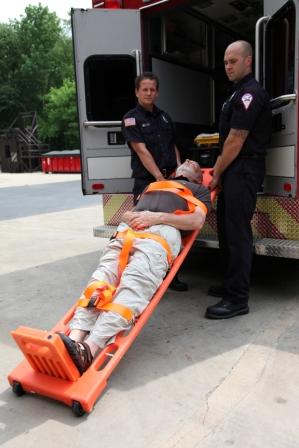 Wauk Board
Bandel Innovations, LLC a Midwest company with the founder of the company having a fire/paramedic background has developed an innovative rollable backboard device.
The rollable backboard allows a first responder to extract an immobilized patient from a tight or restricted space without back injury to the first responder. Ideal for the unconscious or unresponsive patients that a typical stretcher cot or backboard are unable to gain access to.
Features:
Two 3" diamter wheels at the foot end that provide smooth rollability
A rugged built-in footrest that is perpendicular to the board when opened and flush with the board when folded shut
Ability to roll a patient, rahter than carry a patient
Removal of patients from the most constricted locations
Reduces career ending back injuries to first responders
Immobilization features of a typical backboard reduces patient movement during transport
Ideal product for mass casualty events in which one has limited resources and the Wauk Board can assist in tranfering of patients
Attributes:
X-ray translucent
Lightweight
Rigid/Rugged
Floatable
Impervious to Body Fluids
Easily Decontaminated
Dimensions:
Length: 78" Width: 18"
Length from top of foot rest to head of board: 73"
Thickness: 2"
Thickness at wheels: 3.5"
---