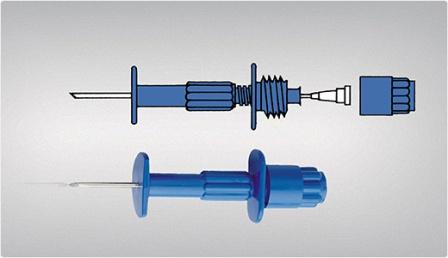 Jamshidi Intraosseous Needle, 15 ga x 1.875"
The Illinois needle offers a sharp lancet point that penetrates easily into the bone to help ensure a safe and simple aspiration of marrow from the iliac crest or sternum. An adjustable depth guard provides depth control for greater patient safety and the twist-off cap holds the stylet securely in place.
Compatible with luer slip and luer lock syringes for a secure fit and ease in aspiration, the T-handle Illinois aspiration needle features an adjustable depth stop for sternal or pediatric application. For iliac crest use, simply remove the depth stop to expose the 3" (76 mm) aspiration cannula.
---