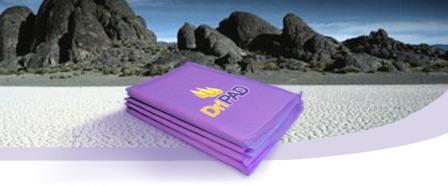 DriPAD, 9" x 9"
Quellent's family of EMS DriPads is new and specifically designed for emergency services to enable personnel to manage potential biohazardous fluids often encountered on site at accidents and other emergencies. These super absorbent pands can soak-up and trap liters of blood, urine and other body fluids. Here are some ways your colleagues have told us EMS DriPADs make their job easier and safer:
Absorbent Side Down:
Use them for clean-up - to soak up blood, urine from the pavement, or in the vehicle
Use them as knee pads - to keep the mess on the ground off of your uniform, and to cushion gravel when kneeling
Spead out a larger size for a work areas - to keep the fluids on the ground, such as blood or water or antifreeze, off of your fanny pack or med supplies while you work on your patient
Drop one in your urinal or emesis basin to keep the fluids from spilling
Absorbent Side Up:
Under an IV start - to catch any bleeding
Use a scalp wound - to absorb any bleed through
Under a possible incontinent patient - to keep the mess contained
On the gurney or vehicle seat - to avoid the clean-up after the case
Under the patient - to catch fluids from the emesis of child birth
EMS Managers also cite these important issue and benefits:
Helps to save money by averting costly clean-up down time
Enhances the protection of workers from potentially biohazardous fluids
Avert slippery environments that can cause worker injuries
When unknown biofluids are on the loose in the field or in your vehicle, reach for the Purple Pad....it's a high performance EMS DriPAD from Quellent.

---