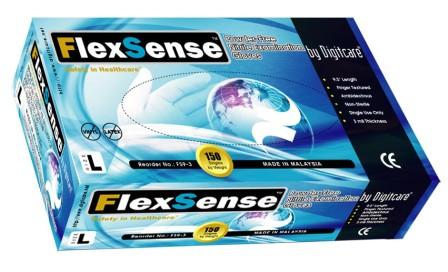 FlexSense Nitrile Glove, Small
Digitcare is one of the world's leading suppliers of quality examination and specialty gloves. Digitcare offers a full line of latex, synthetic, sterile and non-sterile hand covering products that provide the highest level of protection. Digitcare products have been University and field tested with proven durability and class leading performance. Digitcare gloves are manufactured to strict standards that meet or exceed international and US performance codes.
FlexSense, offers our UltraPure formulation - giving you a nitrile glove that is completely free of accelerators (chemicals) most commonly used in the manufacture of nitrile exam gloves that can cause Type IV allergies. FlexSense also offers tactile sensitivity that is unsurpassed. FlexSense offers two other unique clinical advantages: EaseOn interior coating for easy glove donning & EaseOff exterior surface that most tapes and adhesives will not stick to! FlexSense is great for hospitals and convalescent homes.
FlexSense Powder Free Nitrile Exam Gloves were developed to offer the following:
Elimination of all accelerators to reduce the likelihood of Type IV reactions
Extraordinary stretch & tacticle characteristics
Reduced hand fatigue
Puncture resistent
AQL of 0.65 exceeding industry standards
Valuae packaging of over 150 gloves per box (135 gloves/box for XXL)
Full range of ambidextrous sizes Small through XXL
Improved ease of putting on gloves due to our unique Our EaseOn interior coating. This is especially helpful with frequent glove changes
Our EaseOff NO-Stick exterior surface prevents tapes (including Duct Tape) and even Veni-Gard from sticking to the glove
---